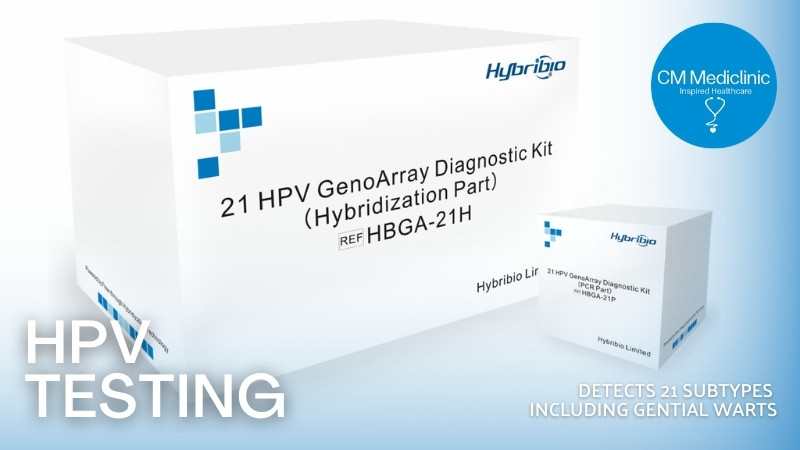 What is HPV?
Human papillomavirus (HPV) is a viral infection that can cause genital warts or cancer. HPV is frequently spread by sexual contact or other types of skin-to-skin contact. The majority of HPV infections do not cause cancer. However, some genital HPV strains can lead to vaginal cancer in the lower region of the uterus (cervix), this is commonly known as cervical cancer. HPV infection has also been connected to malignancies of the anus, penis, vagina, vulva, and back of the neck (oropharyngeal). The virus can also create painless lumps or growths around your vagina, penis, or anus these are known as genital warts.
HPV Screening
You might not be aware that you have HPV because it has no symptoms. That is why it is important to test for the virus in both men and women. It is very common and the majority of people will contract HPV at some point in their lives, many without knowing it. CM Mediclinic provides HPV testing that detects 21 human papillomavirus types, including high-risk HPV types that can infect the genital area, which can lead to warts and cancer. The qualitative PCR in-vitro diagnostic test is available at our clinic in Chiang Mai and costs only 1900 baht.
Cervical Cancer Prevention
The HPV vaccine Gardasil®9 at CM Mediclinic is recommended for both males and females from the ages of 9 to 45 years. The vaccine protects against the types of HPV that cause most cases of genital warts and cervical cancer, as well as some other cancers. It prevents infection with the following nine HPV types:
• Types 6 and 11, which cause 90% of all genital warts.
• Types 16 and 18, that are two high-risk HPV types responsible for an estimated 70% of cervical cancer cases and an even higher percentage of several other HPV-related cancers.
• Types 31, 33, 45, 52, and 58 which are responsible for an extra 10% to 20% of cervical cancer cases.
For further information in preventing HPV with the vaccination, please see our HPV vaccine page. If you would like to book an appointment for HPV testing or vaccination please contact us here.